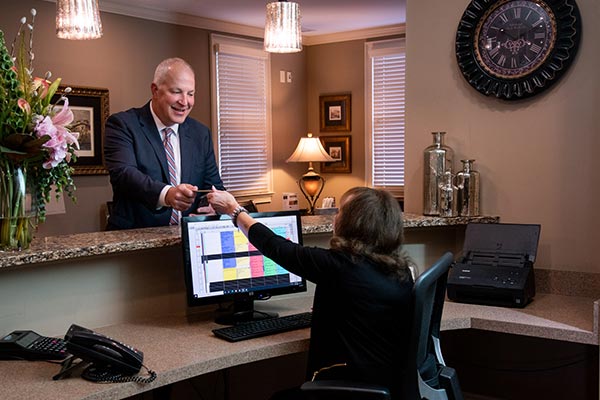 Welcome to Macke Dental Care
From your very first phone call to our Roswell dental office, each member of our team will greet you with professional excellence and genuine concern for your dental health.
Dentistry is all about the details. Our aim — always — is to meet all of your dental needs in a manner that will make you feel very confident and comfortable with us. Our facility has been thoughtfully designed to blend current dental technology with the soothing personal touches of home.
Some of the comfort and convenience features that we have integrated into our daily routine include:
Freshly laundered soft blankets to keep you warm during treatment.
Wi-Fi access in our reception and treatment areas.
Warm smiles and socially distant 'hugs'.
Touchless check out and other measures to keep you safe.
Text and email appointment reminders.
Nitrous Oxide Sedation (Laughing Gas)
Our practice is equipped with nitrous oxide sedation, also known as laughing gas. Nitrous oxide sedation is a colorless gas that has a mild sedative effect. Dentists have used it for many years to help patients feel comfortable during dental treatment.
Patients inhale nitrous oxide through a nose mask that is worn during the dental procedure to place them in a calm, relaxed state.
The patient is awake throughout their treatment. Some patients report a 'euphoric' feeling (hence the term 'laughing gas').
The effects of nitrous oxide wear off shortly after the mask is removed.
If you or your child experience anxiety or fear during dental procedures, please talk to our dentists about nitrous oxide sedation as a treatment option.
A Lifetime of Smiles with our Roswell Dental Team
Our greatest satisfaction comes from building trusting relationships with our dental family - generations of lifelong patients in the Roswell and metro Atlanta community.
We know that fear and anxiety related to dental treatment is common, and each patient has a different dental history and individual concerns. If you have questions or specific needs related to your dental care, we hope you will Contact Our Macke Dental Care Team to get the answers you need and receive the level of care you deserve.