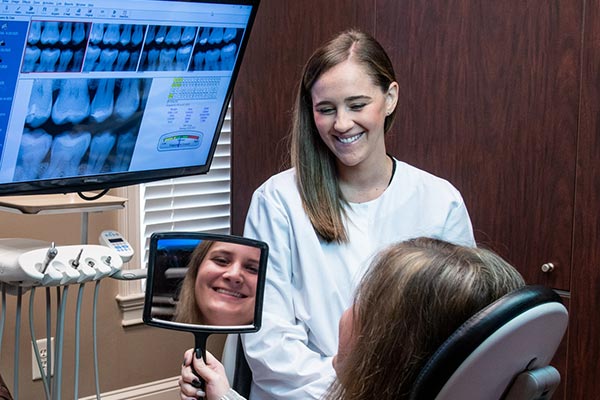 Your Roswell Restorative Dentists
Is your smile feeling less than perfect? Are you struggling with broken fillings or missing teeth?
Restorative dentistry offers many options to rebuild your oral health and regain your smile confidence. Our Roswell restorative and cosmetic dentists can advise you on services that are best for you based on your specific dental health needs.
Comprehensive Dental Examination
If you have questions, the best starting point to help you make decisions about rebuilding your smile is a thorough dental examination with one of our dentists. This visit provides an opportunity for your MDC dentist to take a detailed look at your oral health and guide you through treatment options.
Your MDC dentist will consult with you to develop a treatment plan that considers the 'big picture' of your oral health and how treatment options impact the long term function of your bite. Your goals for esthetics and oral health maintenance are also an important part of the treatment plan discussion.
Our Roswell dentists have years of training and experience in restorative dentistry procedures. They stay up to date on current technology, materials and techniques through ongoing professional training to bring you and your family the latest that dentistry has to offer.
---
Restorative Dentistry Services that our dentists provide in our Roswell dental office include:
---
Dental Fillings
Dental fillings may be recommended to treat small areas of tooth decay. The bacteria that cause tooth decay are destructive; if the cavity is not treated, the bacteria will continue their path through the tooth structure and eventually reach the nerve. This progression can quickly develop into a painful dental abscess, requiring a root canal or extraction.
Most of us have had a dental filling in our lifetime. The goal and purpose of a dental filling is to treat the tooth decay and repair the tooth as early as possible to avoid further damage. If the tooth has lost too much structure to be properly repaired with a filling, a dental crown (or 'cap') may be necessary to fully cover and protect the tooth.
Dental filling materials today are made up of a combination of dental resin components (dental composite) that are applied to the tooth surface using an adhesive bonding process. Dental composite is available in a wide variety of shades to match natural teeth, so your composite tooth filling will be barely noticeable.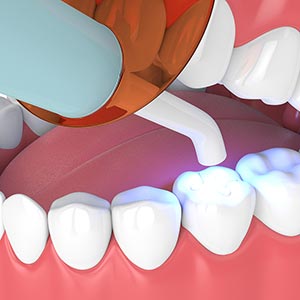 A dental filling can usually be completed in about an hour:
After getting the area comfortably numb with local dental anesthetic, your MDC dentist will remove the tooth decay and shape the preparation for the filling material.
The dentist places the soft dental composite in the prepared tooth and contours the restoration. The dental composite hardening process is activated using a special curing light, and the filling is polished.
Composite restorations are an economical treatment for small areas of tooth decay or to correct minor flaws in front teeth, such as closing a gap between teeth or smoothing the chipped edge of a tooth, also known as cosmetic dental bonding.
Dental composite materials do not last as long as laboratory materials (porcelain ceramics and precious metals), but limiting dental composite to very small areas makes these restorations easier to maintain.
Dental Crowns
A dental crown, or 'cap' is recommended to restore a tooth when the natural tooth structure has been damaged and largely compromised by tooth decay, excessive teeth grinding (bruxism) or mouth injury. A dental crown is also typically recommended following root canal treatment to protect the tooth from fracture.
Dental crowns are designed by our dentists in conjunction with our dental laboratory using a variety of materials based on the location of the tooth and the requirements of durability or space:
A molar tooth (in the back of the mouth, or posterior) is primarily responsible for chewing. A posterior dental crown may be constructed using a combination of precious metals and porcelain, gold or zirconia (white metal) for the necessary strength to withstand chewing forces.
Molar teeth are generally very limited on space for a crown; the selection of crown materials that combine strength with a low profile is often necessary to properly support the bite.
Front teeth (anterior) crowns receive less wear than posterior teeth. An anterior crown is designed for esthetics using a palette of tooth shades to mirror the translucency of your natural teeth.
Cosmetic Dentistry with Dental Crowns
Dental crowns are often planned alongside dental veneers for a cosmetic smile makeover. The artistic nature of laboratory materials makes it possible for our dentists to completely re-design a smile.
During your complete dental examination visit, we will review photos of your teeth with you and ask about your interests in changing your smile. It is often possible to restore teeth that have large fillings or old dental work with dental crowns and use a teeth whitening treatment to lighten your existing teeth to match for a beautiful new look.
Your Dental Crown Procedure
A dental crown is completed in two appointments:
At the initial appointment, local anesthetic is administered to numb the tooth for a crown.
The dentist removes any damaged tooth structure or old dental restoration material and shapes the natural tooth structure to retain the new crown.
Dental impressions are taken and sent to the dental laboratory with instructions from the dentist regarding the crown materials and shade selection. Your tooth is covered with a temporary crown to keep it clean and comfortable.
After the crown is produced by the dental laboratory, you return to our Roswell dental office for final placement.
Your completed crown will look and feel like your natural teeth. Dental crowns can last for years; dental ceramics and precious metal materials used for crowns are smooth and resist staining from foods and beverages.
Replacement of Missing Teeth
If you have missing teeth, you likely have experienced the challenges of tooth loss firsthand. While it can be very embarrassing to lose a front tooth, losing any tooth can make it difficult to chew normally and may restrict the types of foods you are able to eat. Learn more about why it is important to replace missing teeth.
Tooth Replacement Options at Macke Dental Care
Even if it has been several years since the tooth loss occurred, replacing missing teeth with a functioning restoration can help you enjoy the foods you love today while preventing complex dental problems in the future.
Our MDC dentists can consult with you to design a prosthetic replacement for missing teeth that meets your dental health needs and compliments your smile. They provide a wide range of tooth replacement procedures in our Roswell dental practice:
Dental Implant Restorations
A dental implant is a titanium dental prosthetic attachment. It is placed in the jaw bone in the location of the missing tooth by a dental surgeon (periodontist or oral surgeon). Our Macke Dental Care dentists restore the dental implant(s) to replace the function of the missing tooth or multiple teeth.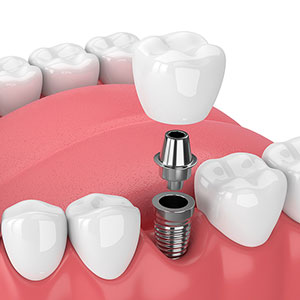 A dental implant serves as an anchor for a dental restoration:
A single missing tooth is replaced with an implant crown.
Multiple missing teeth in the same area may be replaced with an implant bridge attached to one or more dental implants.
Four or more dental implants may be used to secure a partial denture or complete denture (also known as 'all on four', 'all on six' or 'full mouth implants') to replace multiple missing teeth in an arch (upper or lower).
Dental implants are unique compared to other types of dental restorations in that they are engineered to become part of the jaw structure. As the surgical site heals, the jaw bone grows around the dental implant, a process known as osseointegration. Implants create stability and can greatly improve the quality of life for patients that have battled loose dentures for years.
If you have missing teeth and would like to learn more about dental implants, we invite you to contact our Roswell dental team to schedule a consultation with one of our restorative and cosmetic dentists.
Dental Bridges
A dental bridge is a fixed tooth replacement. A bridge connects to dental crowns that are placed on either side of the location of one or more missing teeth (abutments). One or more crowns (pontic) are attached to the abutments to replace the missing tooth.
Dental bridges can be designed to look like natural teeth and they are a fixed restoration vs. a removable appliance (partial denture or flipper). With consistent home care and regular visits with our dentists and hygienists, a dental bridge can function well for years.
In some cases, a single dental implant is recommended over a dental bridge because there is no need to drill on adjacent teeth to place and restore a dental implant.
Partial & Complete Dentures
A denture is a removable dental appliance that is designed to replace multiple missing teeth in an arch (upper or lower). A partial denture is used when some existing teeth are present, a complete denture replaces all of the teeth in the arch.
Dentures may be made of acrylic, ceramics, metal or a combination of materials. Our dentists work closely with our dental laboratory to design a denture that fits properly and looks like your own favorite natural smile. (If you are seeing our dentists for a denture consultation, we invite you to bring photos of your best smile, this is very helpful.)
There are a variety of types of dentures based on the stage of treatment and the patient's ability to tolerate a denture:
An immediate denture is placed following tooth extractions. It is worn while the mouth heals and is adapted and adjusted over time to fit.
Implant dentures are complete or partial dentures that are designed to attach to dental implants that have been inserted in the jaw bone by a dental surgical specialist. Implants are especially helpful with lower dentures; a lower denture is often loose and frustrating for the patient as the tongue is constantly pushing it out.
Overdentures are full dentures that are placed over a combination of dental implants and the roots of natural teeth. This approach helps the patient preserve jaw bone that normally recedes following tooth extraction. Learn more about dental bone loss and reasons to replace missing teeth.
Cost of Restorative Dentistry
Treatment costs to rebuild and replace teeth vary widely based on the patient's dental condition. Our dentists are able to consult with you and develop a treatment plan to restore your smile following a complete dental examination with necessary x-rays.
If extensive treatment needs and anticipated costs have kept you from seeing a dentist, we understand. Often, dental treatment can be phased to work with your budget and your schedule.
Macke Dental Care is a participating provider for CareCredit® healthcare financing. CareCredit® is widely accepted by other healthcare professionals, including dental specialists. Visit carecredit.com to learn more or apply online.
Our Dental Specialist & Laboratory Colleagues
Our dental specialist and dental laboratory colleagues are an invaluable resource for our dentists and our patients. We work closely with local dental specialists, including endodontists (root canals), periodontists (gum surgery and dental implants) and oral surgeons (wisdom teeth extractions and dental implants) as needed to plan and complete your restorative dental services.
Dr. Macke and Dr. Waronker have selected dental laboratory partners that share their commitment to excellence. They work closely with laboratory technicians to create custom restorations that are both functional and visually appealing for our valued patients.
Meet Our Roswell Dental Team
If you are ready to enjoy smiling and eating again, Contact Macke Dental Care to schedule a new patient examination and consultation. We will assist you with compassion and a helpful spirit as we guide you through your options for restorative dental care.