Meet Our Team
Experienced, knowledgeable, and very personable, each member of our team has played a major role in building and nurturing our practice. Together, we believe that clinical excellence, wellness and comfort are our guiding principles for the care that we provide for our valued patients.
Nancy
Receptionist
"Everyone on our team genuinely cares for our patients, and each other. We are like a big family. And, we have the best boss ever!
I love being able to help our patients and our community understand the importance of good dental care. Plus, we get to share our patients' joy when they see the 'reveal' of their smile transformations with cosmetic dentistry. It really is life-changing."
We are honored and proud that Nancy has been a member of our team since 1998. She originally joined the dental profession in 1970, and she shares her amazing wealth of knowledge with our patients and our team daily - always with a warm and welcoming smile. Nancy enjoys reading and spending family time with her 2 daughters, 2 granddaughters and 3 great granddaughters.
---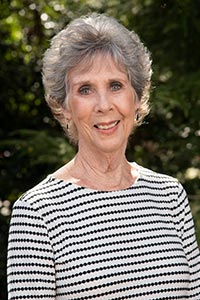 Bobbie
Front Office Assistant
"We get such great feedback from our patients, which makes working here so rewarding. Hearing the satisfaction our patients express after their treatment is wonderful.
We all work together as a team and as a family, building relationships is very special to us. Our shared goal is to provide our patients with very personal and exceptional services."
Bobbie holds a B.S. in Education; prior to dentistry she was a teacher and later a travel agent. It's no surprise that she has unlimited compassion for others and is a wonderful listener, making her the perfect match for dentistry.
Bobbie joined the dental profession in 2007, she became a member of the Macke Dental Care family in 2013. A proud grandmother of 5 college-age granddaughters, Bobbie loves family time, reading and walking.
---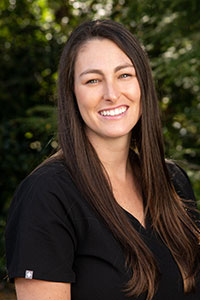 Anna
Dental Assistant
"As a dental assistant, I get to support our patients that come in with restorative needs as they complete their treatment. It is really special to see how amazing they feel after their treatment is finished, their confidence level just soars. A healthy smile can make such a big difference, and I love being reminded of that every day.
Our team is a big happy family, we truly enjoy each other's company. Our patients are the best and we all want to do everything we can to help them feel at ease with us."
Anna joined our practice family in 2014. She is loved by our team and our patients alike for her always-helpful, kind and compassionate manner. Anna enjoys outdoor activities, socializing with her friends and spending time with the new addition to her family, Anderson Jay.
---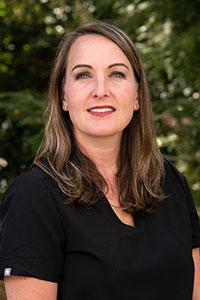 Jennifer
Registered Dental Hygienist
"As a dental hygienist, I love having the ability to care for patients and helping them obtain healthy gums. It is a privilege to get to know them and their families.
Our team is driven to achieve a high level of excellence in the care we provide, while nurturing a close-knit, family environment. We enjoy learning about dental updates and technology together to explore ways to better serve our patients."
Jenn graduated with honors and an associate's degree in dental hygiene from Floyd Junior College (renamed Georgia Highlands College) in Rome, Georgia in 2003. She joined the Macke Dental Care team in 2011. Jenn's patients often express their appreciation for her personalized approach and sincere interest in their dental health.
Family time for Jenn includes watching her kids play lacrosse and attending church. She is active in foster care and enjoys reading, running and dieting.
---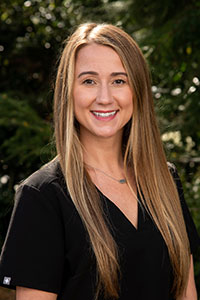 Katie
Registered Dental Hygienist
Certified Dental Assistant
"What I love most about being a dental hygienist is helping my patients enjoy healthier lives and achieving their best oral health through education and care. Dentistry is all about continual learning, and I have an amazing opportunity to learn more with each patient.
We have a family-like atmosphere that makes coming to work fun. Our dentists and team are great role models, they encourage me and inspire me, every day."
Katie originally began her career in dentistry as a dental assistant, and later earned her degree and licensure as a dental hygienist. Since joining our team in 2018, Katie has developed trusting relationships with our patients and our team. Her reassuring, helpful nature and depth of knowledge helps her patients feel at ease and well informed about their dental health.
Outside of dentistry, Katie enjoys spending time with her family and loved ones, going to the beach and attending music festivals and concerts.
---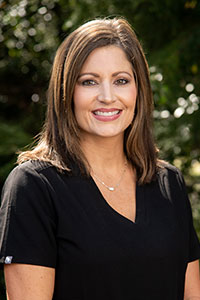 Rhonda
Registered Dental Hygienist
"I love talking and interacting with people and helping them with their oral health. A smile is much more important than many people realize, it is very uplifting to make a difference for a patient that has struggled in the past to keep their mouth healthy.
Our practice has a friendly, welcoming environment. We treat our patients as we would our own family; we want each person in our care to have a pleasant, comfortable experience."
Rhonda earned her degree and license in Dental Hygiene in 2002; she joined our practice in 2014. Her focus on preventive care and sincere interest in her patients' wellness are among the many reasons our patients and our team are grateful that she is part of the Macke Dental Care family.
Rhonda enjoys her family time watching her two sons play football and basketball. Her other favorite pastimes are taking trips, spending time with friends, working out, shopping and baking.
---
Cheryl
Dental Assistant
"I love the family atmosphere of our practice. It is an honor to assist our doctors in providing high quality dentistry to create smiles, and building friendships for life with our patients.
I enjoy meeting patients that have been coming to our office for years because they are happy here. Patient satisfaction is very important to all of us."
Cheryl has been a Dental Assistant since 1985, she joined the Macke Dental Care Team in 2020. She loves dentistry and will always go the extra mile to make sure her patients are completely comfortable.
Away from the office, Cheryl spends her family time with her two sons and one daughter. She also enjoys working in the yard and cooking. A huge sports fan, her favorite #1 team is Alabama Crimson Tide.
---
Zarriya
Dental Assistant
CDA, TCC
"As a dental assistant, I love the hands-on side of dentistry, assisting our doctors with treatment and making sure our patients stay completely comfortable. It is a good feeling to help a patient improve their smile and their oral health.
Our practice has a great history behind it. It is inspiring that Dr. Macke stepped in after Dr. Rose and continued their shared vision for exceptional service and building lifelong relationships."
Zarriya joined our practice in 2020 after earning her degree as a Certified Dental Assistant. Her positive energy is contagious, she is always ready to lend a hand or soothe a nervous patient. Zarriya enjoys her time with family and friends, going on outdoor adventures, hiking, site-seeing, traveling, and cooking.