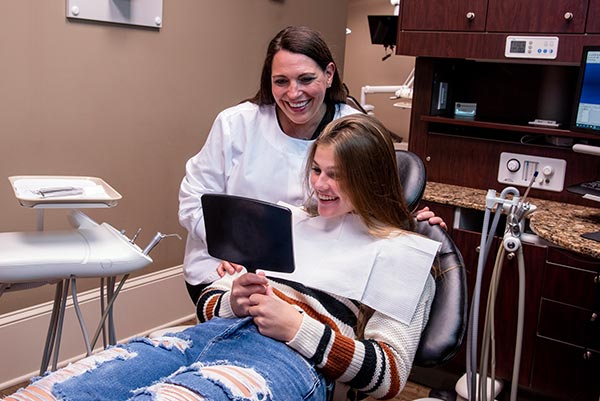 Cosmetic Dentistry
What is Cosmetic Dentistry?
Cosmetic dentistry is a category of dental treatment that is focused on improving the appearance of a smile.
In some instances, cosmetic dental treatment is elective, such as with teeth whitening. In most cases, however, treatment to bring a smile back to health, including dental crowns, implant restorations, partial dentures or composite fillings can also greatly enhance smile appearance. Our dentists create these restorations using cosmetic dentistry techniques and principles to complement your smile.
---
Our Macke Dental Care dentist team provides a number of cosmetic dental treatments at our Roswell family and cosmetic dentistry practice, including:
---
Teeth Whitening
Everyday life can gradually stain our teeth; dark beverages like coffee, tea and wine, along with the natural process of aging, can make our teeth look yellowish-gray and dull over time. Some medications cause teeth discoloration that cannot be removed by brushing or a dental cleaning alone.
Teeth whitening (bleaching) is a safe and economical process for removal of stains from teeth surfaces and lightening the shade of tooth enamel. Our Macke Dental Care teeth whitening treatment includes professional strength whitening gel and custom trays to fit your smile:
Your brighter smile begins with a complete dental examination; our dentists will check the health of your teeth and make sure they can be whitened successfully. If you have any signs of decay or infection, we may recommend postponing your whitening treatment until your smile is in good health.
We will take impressions of your teeth and create custom plastic whitening trays to fit over each arch (upper and lower teeth). The whitening trays are fabricated to contain the bleaching gel; they will fit snugly over the teeth to prevent the gel from being washed away by saliva during the whitening process.
Your home whitening steps are easy: Just dispense a small amount of whitening gel into each tray and wear over the teeth for about 30 minutes a day. Your teeth will be noticeably whiter after just a few applications.
Dark, deep teeth staining (usually from medications) may require a different whitening formula or more applications to whiten effectively.
We use a professional strength teeth whitening gel that has received the ADA (American Dental Association®) Seal of Acceptance. Compared to over-the-counter products, professional strength whitening gel contains a higher level of the active bleaching ingredient, carbamide peroxide.
Cosmetic Porcelain Veneers
A cosmetic dental veneer is a thin porcelain facing that is adhered to the front surface of a tooth to conceal minor flaws and create a naturally beautiful appearance. Veneers offer advantages in that they require removal of very little existing tooth structure to apply, and they offer endless possibilities in re-defining tooth shape, shade and the overall appearance of your smile.
When you hear the term 'smile makeover', cosmetic porcelain veneers are often one of the procedures that have been used to completely change a patient's smile. Veneers are an excellent solution to close a gap between teeth, or, to mask teeth that are chipped, unevenly spaced, crooked, oddly shaped or discolored.
Dental porcelain is a long lasting material that resists staining; your veneers will stay fresh and bright with good home care and regular preventive care visits with our dentists and hygienists.
Dental Bonding & Composite (white) Fillings
Dental composite is an adhesive resin 'white' filling material that is available in many shades to match natural tooth structure. Dental composite has become the standard for dental fillings in front and back teeth; the composite material color blends with the tooth surface and is barely noticeable as compared to dark silver fillings (dental amalgam).
Dental composite may be used to repair small areas of decay using an adhesive, or 'bonding' process:
Your MDC dentist removes the decay and prepares the tooth, then places and shapes the soft dental composite material to replace lost tooth structure.
The composite hardening process is activated using a special curing light, and the filling is polished.
You leave our office with a completed dental composite filling; there is no need to wait for a setting time (although we do recommend waiting until the anesthetic wears off before eating so you do not accidentally bite your tongue or lip).
Tooth-colored bonded composite restorations are also used to correct small imperfections in front teeth, including chipped edges, uneven tooth surfaces and oddly shaped teeth, or to close a slight gap between the teeth.
Dental bonding is an affordable cosmetic dentistry procedure; although composite material is not as durable as porcelain, it is well suited for small changes that can make a big difference.
Dental Implant Restorations
Dental implants are small screw-shaped titanium cylinders that are placed in the jaw bone to replace the loss function and appearance of one or more missing teeth. The dental implant serves as a foundation for a crown or bridge, or, provides attachment to stabilize a partial or complete denture.
Our dentists work closely with local dental surgical specialists (periodontists or oral surgeons) to plan your dental implant restoration. After the surgeon places the implant(s), your MDC dentist completes the process with a custom implant crown, bridge or denture. Learn more about dental implants.
Cosmetic Crowns & Bridges
Dental materials and technology have made today's options with cosmetic dentistry completely boundless. Restorations that are necessary to rebuild teeth to proper function can also be designed to create your dream smile with natural-looking materials like dental porcelain, zirconia or a combination of precious metals and ceramics.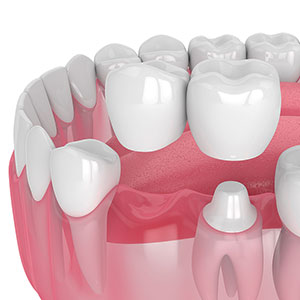 A dental crown replaces the upper portion of the tooth above the gum line (the 'crown' of the tooth). It is needed when the existing tooth structure has become compromised due to tooth decay, wear from teeth grinding (bruxism) or a mouth injury. The crown helps to protect the nerve of the tooth and prevent further damage.
Dental bridges are used to replace one or more teeth in the same area. A bridge attaches to crowns that are fitted to adjacent teeth (abutments) and the missing tooth is replaced with a false tooth (pontic).
A dental implant is sometimes the preferred alternative to a dental bridge because an implant restoration does not require drilling on the adjacent teeth for support, however, not all situations can be addressed with a dental implant.
No smile is hopeless. When teeth are broken down or missing, our dentists can customize dental crowns and bridges to restore your oral health and help you feel great about your smile appearance.
Smile Makeovers
What is a Smile Makeover?
A smile makeover is the transformation of a smile to a completely new appearance using a well-planned combination of dental procedures, such as teeth whitening, cosmetic veneers, cosmetic bonding, dental crowns or implant restorations.
Patients often choose to have a smile makeover due to old, broken restorations, missing teeth, crooked teeth and gaps between teeth, or deeply discolored and heavily stained teeth. Our dentists personalize your smile makeover plan based on your individual cosmetic goals.
How much does a Smile Makeover Cost?
The cost of a smile makeover can vary based on your specific needs. As part your complete dental examination and consultation, our dentists and dental team members will help you explore treatment options and review the costs of each phase of your cosmetic smile makeover.
For your convenience, our Roswell dental practice is a participating provider with CareCredit® healthcare financing. Visit carecredit.com to learn more about CareCredit® or apply online.
Roswell Cosmetic Dentistry Providers Near You
The first step to your new smile is a consultation appointment; during this visit our Macke Dental Care dentists will talk with you about your interests and any dental concerns that you would like to correct. They will thoroughly examine your teeth to assess your oral health and provide you with recommendations that are appropriate for your smile.
Contact Macke Dental Care to schedule your cosmetic dentistry consultation with one of our Roswell restorative and cosmetic dentists.