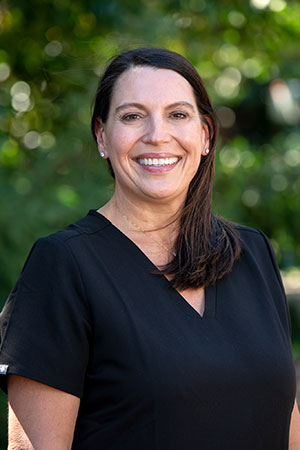 Wendy Medders Macke, DMD
Born and raised in Athens, Georgia, Dr. Wendy Macke graduated from Athens Christian School and attended college at Furman University in Greenville, South Carolina, where she majored in biology. While at Furman, she joined Kappa Delta sorority, made the Dean's List and was elected to the Alpha Epsilon Delta National Health Preprofessional Honor Society. Dr. Macke received a Bachelor of Science in 1995.
Dr. Macke completed graduate school at the University of Georgia, earning a Master of Science in medical microbiology in 1997. Over the next four years, Dr. Macke worked toward her D.M.D. (Doctor of Dental Medicine) degree at the Medical College of Georgia's School of Dentistry in Augusta, Georgia, graduating in 2001. During dental school, Dr. Macke was selected for the Seniors Honors Elective in Oral Surgery and also served an externship with the Indian Health Services at the Crow Indian Reservation in Montana.
In September 2001, Dr. Macke joined a one-woman general dentistry practice in Dunwoody, Georgia to launch her career. Two years later, she became an associate in a large group practice in Alpharetta. "The group practice was a high volume practice and focused more on quantity than quality," she says. "That wasn't what I wanted in the long term." What she wanted, she decided, was her own practice. She and her husband, Comcast Cable executive, Andy Macke, whom she married in 2004, started looking for an existing practice to buy, and also an area where they could put down roots. Nothing was just right. Dr. Macke says, "I was getting very discouraged and thinking about opening a practice from scratch when a business acquaintance of Andy's said he had a dentist friend who might be interested in selling. That friend turned out to be Dr. Rose."
Although Dr. Rose wasn't looking to sell his practice, he agreed to meet with Dr. Macke to explore the possibility. As Dr. Macke tells it:
"We discussed where we were in our respective careers, along with our philosophy of dentistry and how we valued the relationships we formed with patients. It was very important to Dr. Rose to find someone who would take care of his patients the way he always had - with personal attention and the highest quality care. We discovered we had the same approach to dentistry and were very compatible."
Dr. Macke had found her "dream practice," and Dr. Rose his perfect counterpart. However, the deal wasn't sealed until October 2008 after the arrival of the Mackes' baby girl, Ellie, in June of that year. Dr. Rose has since retired, and Dr. Macke is honored to continue to care for his patients today.
A priority for Dr. Macke is to provide her patients with the latest information on treatment options to preserve their dental health. She enjoys staying current through continuing professional education in advanced topics, including dental implant restorations, oral surgery, cosmetic dentistry and dental technology.
Dr. Macke and her husband Andy reside in Alpharetta with their two daughters.