Greetings from our Macke Dental Care Team
General and cosmetic dentists Dr. Wendy Macke and Dr. Susannah Waronker and Team welcome you to our family dental practice located in the beautiful Roswell, Georgia historic district.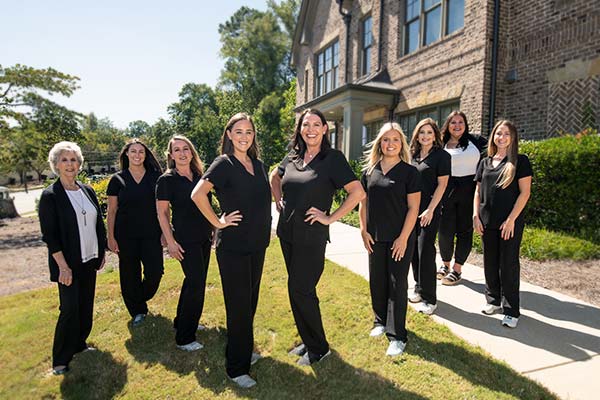 Professional Care with a Personal Touch
At Macke Dental Care, you are never a number. Our Team shares a genuine appreciation for the uniqueness of each person's dental needs. Dentistry is about so much more than just teeth. How we feel about our smile is central to our individual self-expression and sense of confidence. And, keeping your smile problem-free not only looks better, it is good for the rest of your body too. We are devoted to providing the highest level of dental care and building lifelong relationships with our patients.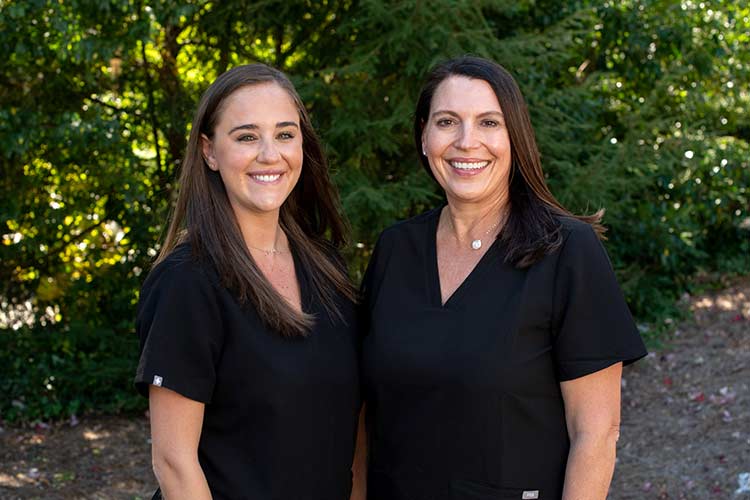 Our Roswell Family & Cosmetic Dentists
Roswell dentists Dr. Wendy Macke and Dr. Susannah Waronker celebrate their opportunity to improve the dental health of their patients every day. They are passionate about continually advancing their knowledge and technology systems to bring their patients the most current dental treatment options available.
Dental Services for Your Smile
Our dentists and team want you to enjoy coming to see us. We provide a full range of preventive, restorative and cosmetic dental services to address the changing oral health needs of children and adults. Most importantly, we listen carefully to your concerns and will always include you in decisions about your dental well-being.
We encourage you to ask questions and want you to feel completely at ease as we make a plan for your smile… together. Learn more about Our Commitment to Your Comfort.
Family Dentistry
Smiles are like fingerprints, from the eruption of the very first tooth, no two smiles are alike. At Macke Dental Care, we know that each smile has different needs over a lifetime. We can assist you with preventive care and recommendations for children and adults.
Learn more about Family Dental Care »
Rebuilding Your Smile
If it has been a while since you have visited the dentist, we understand. We never want our patients to feel overwhelmed by dental needs. Beginning with your very first visit, your dentist will help you prioritize your care and review options to restore health to your smile.
Learn more about Restoring Your Smile »
We have the BEST Patients!
See what they are saying about Macke Dental Care of Roswell…
"My wife and I have been going to Dr. Rose for more than 10 years. I'm not sure there is a better dentist or one as knowledgeable that you can get with his years of experience. More recently I have had procedures done by Dr. Macke. She, too, really cares and is very accessible. We've had a great experience with the whole staff. They all take time to focus on patient care. You never get that feeling of being rushed in and out."
— Tony M.
"I have been a patient since 2008 and they are so professional and caring. This practice treats you like family. If you are looking for a practice that cares then Macke Dental Care is your place."
— Donica
"So thankful to finally have a dentist I wholeheartedly can recommend. Dr. Macke is a gem. Her office staff are all wonderful, she is kind, knowledgeable and skilled. Plus her fees do not break the bank. Our family of five will be here for life."
— Carolyn R.
"Dr. Wendy Macke has been my dentist since she acquired Dr. Rose's practice almost a decade ago. Her team of dental hygienists are first rate and they, along with Dr. Macke, do everything they can do to make check-ups and the occasional emergency a pleasant experience. I have and will continue to recommend Macke Dental Care to my friends and family."
— Tom M.
Our Convenient Roswell Location
Macke Dental Care is located at 860 Warsaw Road, Suite 100 in historic downtown Roswell near the CVS pharmacy on Holcomb Bridge Road. We invite you to Contact Our Team to schedule your next dental appointment. We look forward to meeting you!